I am a Postdoctoral Research Fellow in philosophy with Thumos, the Genevan Research Group on Emotions, Values and Norms, at the Swiss Centre for Affective Sciences (CISA), University of Geneva.
We recently hosted a conference on 'Negative Emotions: The Good, the Bad and the Ugly', 30-31 May 2017, at CISA. Speakers were: Macalester Bell (contempt), Sandy Berkovski (embarrassment), Mary Carman (anger), Jennifer Corns (pain), Ronald de Sousa (jealousy), Charlie Kurth (anxiety), Tristram Oliver-Skuse (boredom), Carolyn Price (regret).
The History of Emotions blog is devoting #BadFeelings week (beginning 5 June 2017) to posts from our speakers. You can see the posts, here. Thank you to Thomas Dixon and the History of Emotions blog for recording our very successful conference!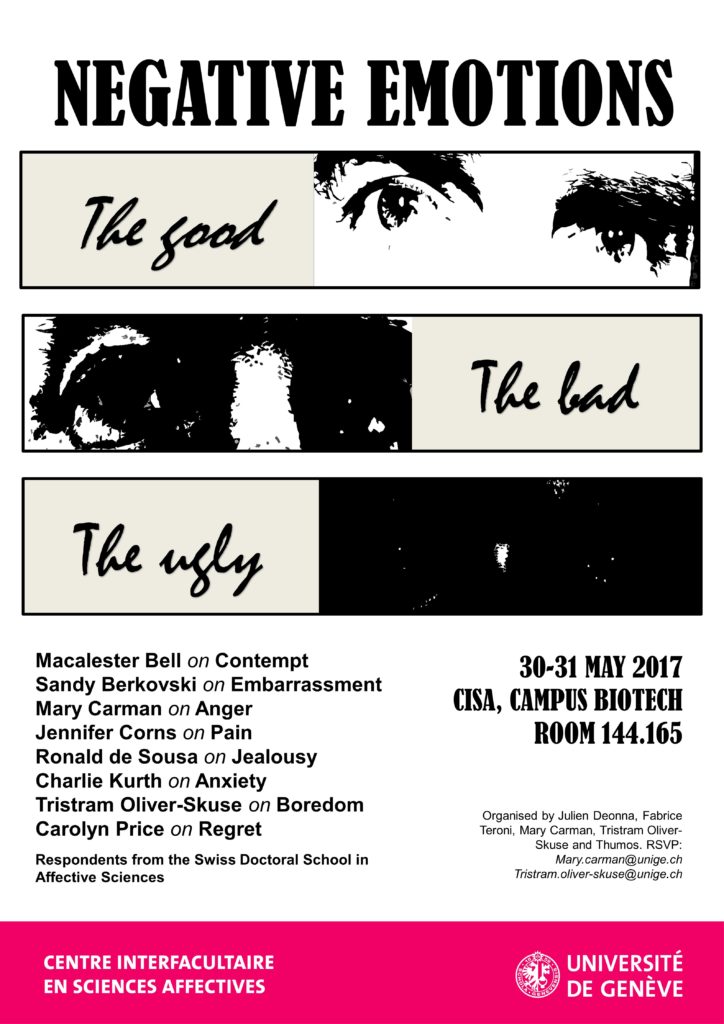 My areas of speciality are Philosophy of Mind and Philosophy of Action, and areas of competence Gender & Philosophy and Epistemology. I was awarded a Ph.D. in Philosophy from King's College London, U.K., in 2015 where I was supervised by Dr Maria Alvarez and Prof. Bill Brewer.
My Ph.D. thesis focused on the role of emotions in explanations of action and I defended the claim that we can act rationally when acting on the basis of an emotional experience. My continuing work aims to contribute towards a robust conception of rational agency, one which acknowledges our emotional nature and which is able to incorporate emotions into an account of how we do indeed act in many of the cases when we act rationally.
Here's a recent post I wrote for the blog Imperfect Cognitions that gives a bit of a sense of my work.
While my primary research focus has been on emotions and action, as part of my previous postdoctoral position at the University of the Witwatersrand, and working with Prof. Lucy Allais, I have been expanding my focus to topics in Bioethics. I was the principal investigator on a collaborative study between the Wits Centre for Ethics (WiCE) and the Wits Reproductive Health and HIV Institute (WRHI) on informed consent in clinical research settings, and currently manage the South African HIV Clinicians Society Ethics & Policy mailing list.
For more information, please see the rest of this website.
You can contact me via email: marycarman [at] gmail.com